A feature based on some of those people who helped shape our Regimental history
---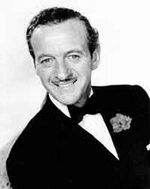 David Niven
Born – 1 March 1910, London, England, UK – Died – 29 July 1983, Château-d'Oex, Switzerland (Lou Gehrig's disease)
David Niven was named after the Saint's Day on which he was born, St. David, patron Saint of Wales. He attended Stowe School and Sandhurst Military Academy and served for two years in Malta with the Highland Light Infantry. After he left the Royal Military Academy at Sandhurst he was asked to write down his three preferred regiments, he wrote "anything but the HLI" he was inevitably commissioned into the HLI. He often used to say he was born in Kirriemuir, Scotland. It was only after his birth certificate was checked after his death that this was found to be incorrect. David thought it sounded more romantic. He was born in London, England. His Scottish father was Lieutenant William Niven, who died at Gallipoli on 21st August 1915, aged 25, while serving with the Berkshire Yeomanry. He was reported missing until 1917.
A close friend of Michael Trubshawe. They served together in the HLI in Malta in the 1930s and Trubshawe figures prominently in Niven's biography, "The Moon's A Balloon". Niven states: "He swiftly made a name for himself in television and one of his earliest screen appearances was in The Guns of Navarone – a lovely bonus for me." Niven does not mention Trubshawe's earlier appearance in Around the World in Eighty Days (1956). Trubshawe was Niven's best man on the occasion of his two marriages, and also godfather to Niven's son David, Jr.
At the outbreak of World War II, although a top-line star, he re-joined the army (Rifle Brigade) and served through Dunkirk, joining the commandos and later the secret Phantom Reconnaissance Regiment. He spent most of the time behind German lines with the latter outfit, a rough, tough, hit-and-run group harassing the enemy. During his war service, his batman was Pvt. Peter Ustinov. From 1942-46 Ustinov served as a private soldier with the British Army's Royal Sussex Regiment, during the
Second World War. He was batman for David Niven and the two became life-long friends. Ustinoiv spent most of his service with the Army Cinema Unit, where he worked on recruitment films, wrote plays, and appeared in three films. At that time he wrote and directed his film, The Way Ahead (1944) (aka.. The Immortal Battalion).
Niven, however, consented to play in two films during the war, both of strong propaganda value -The First of the Few (1942) and The Way Ahead (1944). In spite of six years' virtual absence from the screen, he came in second in the 1945 Popularity Poll of British film stars. On his return to Hollywood after the war he was made a Legionnaire of the Order of Merit (the highest American order that can be earned by an alien). This was presented to Lt. Col. David Niven by Gen. Dwight D. Eisenhower. Click here to learn more
---
Francis Fergus O'Farrell (1650 – 1708) 
3rd Colonel of the Royal Scots Fusiliers (July 29 1686 – Nov 13 1695)
---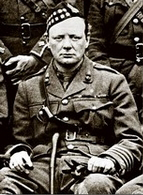 Sir Winston Churchill
Lt. Col Winston Churchill commanded 6th Battalion RSF in 1915.
---
CSM J G "Sixty" Smith – DCM, MM and Bar, Mentioned in Despatches, LS & GC.
Described in the HLI Chronicle of 1937 as not just a Company Sergeant Major, more an institution. When the 71st left Cairo in 1936, Sixty Smith was in the Military Hospital there and had to be left behind. He died shortly afterwards and was buried by the 1st Battalion Seaforth Highlanders with full Military honours.
---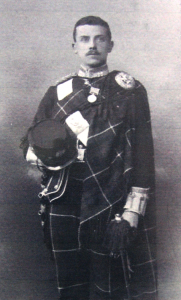 Captain Thomas Patrick Milne-Home HLI
Born in 1875 and died at Darlington North Yorks in 1956 aged 81. He was wounded at Dewetsdorp during the Boer War in 1900, but then in early 1901 was dismissed the service and then reinstated some months later, Proud Heritage revealed that only one HLI officer was wounded at Dewetsdorp (No name given) the officer concerned had surrendered his post to the Boers and had been court-martialled and dismissed the service. The QSA medal casualty roll only mentions one HLI officer as being wounded at Dewetsdorp and names him as Lt T.P. Milne-Home.
Col. Kelham's Boer War Diary contains information on the action at Dewetsdorp and states:
"The fighting had been incessant for several days but about 3pm on Friday 23 November came the climax. Several men, some of them gunners, others infantry driven out of their own trenches by the enemy's fire and more or less demoralised, rushed headlong into one held by a young subaltern and some men of the HLI. The officer had already been wounded and was worn out, body and mind, by the strain of the continuous fighting and want of sleep. The trench was outflanked and under close fire so apparently pressed by his companions he raised a white handkerchief and all was over."
Col. Kelham goes on to say that this action cost the officer his commission, but by order of H.M. King Edward the case was re-opened and the officer reinstated, he also says that in his opinion the young officer was made a scape-goat for the outcome of the action at Dewetsdorp.
Further research at the National Archives shows that Lt Milne-Home's court martial was held at Bloemfontein on 29 Jan 1901 the charge being "Shamefully delivering up a post. Knowing doing an act (showing white flag) calculated to ——–." The remainder unreadable. The sentence "Dismissed the Service". It also says "Laid before the King 9 March 1901". A hearing was then held which exonerated him and he was reinstated. He was promoted to Capt. in April 1901.
The QSA medal roll for the 1st Btn. HLI initially in 1901 shows against his name "On Black List" but in 1903 it was altered to read "Medal to be given as all record of conviction should be removed". He was entitled to 4 clasps on the QSA medal, Paardeberg, Wittebergen, Cape Colony and South Africa 1901.
In the 1904 Army List he was shown as Captain 2nd Btn HLI, in the 1909 list still shown as Captain 2 Btn but also shown as on the strength of the 4th HLI Special Reserve (Militia). He went on to half pay in August 1909. There is no record of him serving in WW1.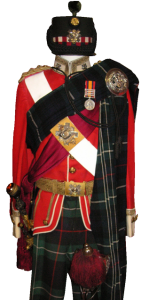 After the Boer War and no doubt after his court-martial it states in Proud Heritage "the principle was somewhat forcefully laid down in "INFANTRY TRAINING" that, failing orders to withdraw, a position would be held "to the last man and last round" and that "a final effort will be made with the bayonet, rather than surrender".
Click to view larger image
Image courtesy of Stuart Graham Researched by Stuart Graham, Stuart would also like to thank Sandy Leishman, Tom MacGruer and Barry Thacker for their help with providing additional research.
---
More articles will appear here soon, own work article submissions gratefully accepted. Please email any submissions to joyce@rhf.org.uk.