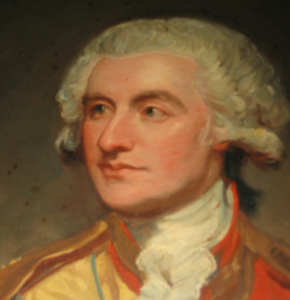 1777
The 71st Highland Regiment of Foot (Light Infantry) was raised by Major-General John Mackenzie, Lord MacLeod, in 1777 from an independent company that had existed since 1771. The Regiment was numbered as The 73rd Foot and were not renumbered as The 71st until 1786. The 73rd Highlanders mustered in Elgin early in 1778 and moved to Fort George – this was the first Clan regiment to be raised and they proudly wore kilt and plaid of Mackenzie tartan. The Mackenzie tartan was maintained in the trews of The Royal Highland Fusiliers.
John Mackenzie, Lord Macleod, was the eldest son of the 3rd Earl of Cromartie and fought with his father's clan at the Battle of Falkirk, leading 500 clansman in the Uprising of 1745 – he was taken prisoner on the day before the Battle of Culloden and imprisoned. Pleading guilty at his treason trial, he was pardoned on condition that he relinquished his earldom to the Crown, which was not restored until the reign of Queen Victoria. Mackenzie left Scotland and eventually obtained a commission in the Swedish army as a mercenary – he served the Swedish Crown for 27 years, reaching the rank of Lieutenant-Colonel and created a Count of Sweden. He returned to Scotland in 1771 and was the first Colonel of the 73rd Foot (Macleod's Highlanders), later The 71st Highlanders; and remained the Regiment's Colonel until his death in 1784.
The 73rd's first overseas deployment was to Fort James (in what is now the Gambia) in 1779 and in the following year, they were sent to fight in the Carnatic (First Mysore Campaign) and took part in the battles of Conjereram (1780), Porto Novo, Cuddalore (1783)and many more. Remaining in India, they served in the Third Mysore War (1789-92), seeing action at Bangalore (1791), Nundy Droog (1791) and Seringapatam (1792) and helped in the capture of Pondicherry from the French in 1793; later fighting in Ceylon (now Sri Lanka) at Trincomalee in 1795.
Meanwhile, a second battalion had been raised in Paisley and sailed for Gibraltar in 1779, taking part as marines in the battle of Cape St Vincent on route. They remained on Gibraltar throughout the Siege of Gibraltar (1780-3) repelling many French/Spanish attacks. They were granted the insignia of Castle and Key on the Colours, before returning to Scotland in 1783 and being disbanded.