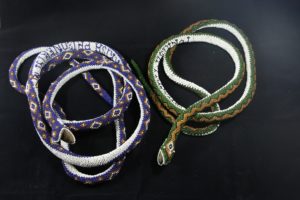 By 1917, the British army had captured more than one hundred thousand Turkish soldiers; and by the end of the war, this had risen by a further fifty thousand. These were soldiers of the much-weakened and crumbling Ottoman Empire, who had not really been able to compete with the well-trained British troops whose morale was still relatively high. Their morale must have been at rock bottom, their future uncertain and far from home – interned initially in India, Burma (now Myanmar), Cyprus and Mesopotamia, they were eventually transferred to Egypt and into very large, specially-constructed camps.
Having settled down in permanent camps in Egypt or India, officers came up with creative ways to pass time, while many of the enlisted men were kept busy with the physical labour they had to perform. The officers produced hand-written newspapers, staged theatrical plays, played sports, and learned languages from fellow prisoners. They also opened "schools" to teach everything from basic literacy to agriculture and religion to the enlisted men, many of whom werealmost completely illiterate.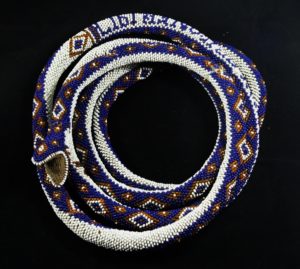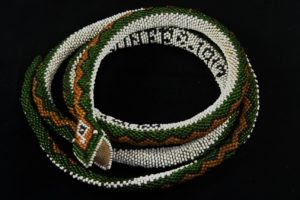 And so, like prisoners of war throughout history, these men settled into their new way of life and began to use their skills to produce items to sell to their captors – which brings us very neatly to the fine examples of beaded crocheting that we have in our First World War displays in the Museum. The eye-catching objects are two rather realistic-looking snakes: the first, measuring slightly over three metres (c10 feet) is made from blue and white beads with brown zig-zag patterns. The shorter snake is made from green and white beads, with similar brown zig-zag patterns and measuring just over two metres (c7 feet). Both reptiles have the words: "Turkish Prisoners 1917" on their bellies; although, it seems unlikely that these were written by the maker.
Beadwork was a very popular technique in the Ottoman Empire and involves small glass beads using either the beaded crochet method or weaving on small looms. Lizards, bags, bookmarks and jewellery were all created in the prisoner of war camps, but snakes were undoubtedly the most popular. This may have been because the tube-shape makes them easier to crochet; but more likely, because snakes were a symbol of good luck in parts of South East Europe.
So, these snakes, collected as souvenirs by a British soldier, who presumably made it home, were created by a Turkish prisoner of war. Both men were far from home and possibly both were wondering if they would ever see their homes again – it is interesting that it was the imprisoned soldier who produced the symbol of good luck for one of his guards, that possibly saw him safely back to "Good Old Blighty" – the affectionate term used by soldiers of both WWI and WWII for Britain.